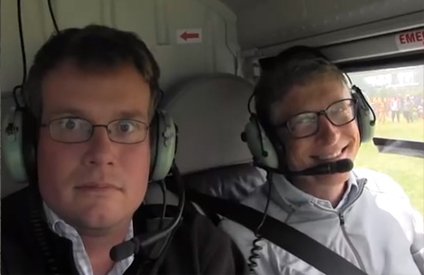 John Green
$326,453.33 raised
John Green says:
If Nerdfighters come together and raise $100,000 for Ethiopia, Bill Gates will match it.
In July, I joined Bill Gates and the Gates Foundation on a trip to Ethiopia. I visited a hospital in Addis Ababa and various health outposts in rural Ethiopia, speaking to Ethiopian health workers about their day-to-day experiences and the fantastic progress of the country's more recent investments in sustainable healthcare.
While Ethiopia's under-5 mortality rate has dropped, the need for safe water and sanitation access persists; the health centers I visited with the Gates Foundation often did not have running water, and the people I spoke to almost always cited clean water as among their biggest needs. With a population of 96 million, 76 million Ethiopians have no sanitation services and 49 million do not have access to safe water.
To help change this, I invite you to support his fundraiser for Water.org. Co-founded by Matt Damon and Gary White, Water.org has been developing sustainable water solutions for more than 20 years. Through this fundraiser I hope to establish safe water access for 8,000 people in Ethiopia.
Ethiopian health workers are making incredible progress in healthcare, especially when it comes to women's health and decreasing the infant mortality rate, but improving every Ethiopian's access to safe water is critical for this work to continue. Thank you to everyone who has been able to donate and DFTBA.
Read more about John's trip here.
Donors Please donate this to the people who need water in Ethiopia Donated on behalf of Chris, Tasha, Alex and Collin Borg You are so great for starting this project! I really hope that the situation will improve! Btw, Bill gates is awesome, too! Mel xx Don't Forget To Be Awesome Thank you for letting us be apart of this movement. This such an easy way to chip away at a hard problem. I had 22 surgeries as a child, and without clean water, I might not have survived. A belated Christmas present. DFTBA Dont forget to be awesome I figured this was better than spending it on apps or junk food. Workplace Matching Gifts Direct TV Employees Workplace Matching Gifts Genentech Employees Workplace Matching Gifts Google Employees DFTBA. I know I'm late for the Bill Gates matching the donation amount party, but I just want to know that I'm making a difference. better later then never :) Thoughts are with the people of Ethiopia as they continue to develop the health of their country. <3 even though my donation is small, I dont want it to make me feel better about myself. i just want people in Ethiopia to have water and food Thank you for giving me the oportunity to give something in a way that I feel happy about! Here you go, this makes it better, hope it helps. DFTBA Thank you for doing this. I hope my small amount helps. Because every penny counts. This is from my daughters (7+9) who raised the money. We matched it and they are excited to about Gates matching. $20 to $80. cool. Thanks you for making donation easy. I trust you. Thanks John. I added 19 cents so the number will be a even dollar like it should be. Some monster added 81 cents to their donation I don't have much right now but I hope this helps, especially if it's being matched. Thank you for setting this fundraiser up. John Green, I've enjoyed your YouTube channels. Thank you for letting me give a little back. Make it count, man. I know you will. Sorry it's not much, but I applaud you in the work you're doing! God bless xxx agreed may there be potable water for all Thank you for the opportunity to help.