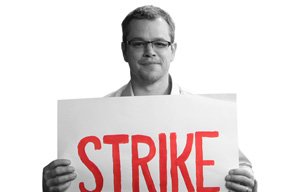 Water .org
$79,778.01 raised
Water says:
Matt Damon, co-founder of Water.org, is taking a stand for the water crisis and is going on strike.
The problem is enormous but we can make a difference. One in eight people don't have safe water meaning each morning they scavenge to survive. Lack of safe water and sanitation impacts a family's health, keeps children from getting an education, and traps millions in a cycle of poverty.
For only $25 Water.org can get someone safe water for life. Water.org has been helping people get sustainable solutions for over twenty years. We can make a difference in the world and together we can help change someone's life.
Check out the strike at StrikeWithMe.org.
UPDATE: As some of you have noticed, we have exceeded the initial goal set for this campaign. We assure that you what we raise over the goal will still be used for bringing water and sanitation to those in need. Thank you for your support.
Donors Saw you on Wheezy Waiter, keep up the damn good work! If more donation sites were like this I would probably donate more. This is all I could donate! I hope its good enough! :) I wanted to strike, but giving money just seemed more helpful. And easier. Lunch for two or water for life? Duh. May God bless your effort I'm so happy to be able to help. Thank you for creating a way for me to help people from so far away! thank you for all you are doing matt. i really appreciate what you are doing for the people around the world. keep up the good work . Good luck and I hope we reach as many people in need as possible! Good work! I hope we get updates on how this awesome organization is doing. Thank you for your hard work! Sorry. after 3 yrs in Peace Corps a toilet is a well earned luxury How about I donate some $ instead? Keep up the great awareness! This is such a worthy cause. I wish I could more. Blessed Be. I saw the water filters being distributed by the Armed Forces Veteran... a great invention to help filter dirty water in areas of need. thank you for the opportunity Glad to be part of a great cause to change and improve the quality of lives. Thanks Matt...a great idea Just bought my way back into the bathroom. Alicia Sky & Ashlyn Kunerth I gave up coffee for lent. This is where my coffee money is going :-) "Reporters are dicks" lol Here's to a lifetime of clean water and sanitation. In honor of all those who cannot poop If it's just caca, I'm totally in. Great cause and very happy to support it! Thank you for helping to solve a problem. Water is life. I can't afford to give much, but every little bit makes a difference. Thank you for starting this organization. We all need clean water but I agree with Stan go to the toilet or your kidneys will hurt like heck :) very straightforward, very clear goal, makes absolute sense! makes it a no-brainer on deciding whether to donate. thank you! $5 is the lowest amount one can donate on this site BUT if we all gave just $5 together we would make a HUGE difference! My hope is with the efforts made by Water.org, we can one day live in a world where simply being thirsty is not a life or death decision. Everyone deserves access to clean water! Let's do this. It's really just that simple just give up $25 worth of your coffee purchases for a few days... good work matt, get sxephil on this he has a shit tone of subs that would love to help out Everyone deserves access to clean drinking water and adequate sanitation, I'm just doing my social duty. matt and all the supporter thank you so very much I am very proud of u keep going, I got ur back!!! "Human nature is like water. It takes the shape of its container." ― Wallace Stevens

this is my last 50 dollars till April. looks like i'll be eating ramon noodles till then. its completely worth it. good luck Matt. I send white light and love to you everyday supporting you in your selfless service to mankind. Thank you, Matt Damon It is time to show that there is a generation of Americans who care. Thanks Matt!

I can easily spend $25 in a day on "nothing" - this is a much better way to spend it! In solidarity with the strike! Matt Damon's films are amazing. To see that it's actual feelings he has and not just an act is truly inspirational. Thank you for making this possible and for helping out so many people. :) Happy to support this cause as the statistics are shocking. Great work! Funny videos for a serious problem. Way to go! It really matters to get involved, do something, and give to someone in need. Wow, what a great feeling to know that I can help. Thank you so much for providing an avenue for us to help. Great video, great cause! Clean Water For Life! Karma Unbelievable $25 can provide someone with clean water for life! just think how wasteful we are of water in the so called developed countries or economies. GREAT CAUSE EVERY LITTLE BIT HELPS AND MAKES A BIG DIFFERENCE IN THE WORLD such an easy way to do so much for someone else - thank you for the opportunity Great cause. Hope this helps Water is such a gift that we take for granted every day. Thank you for starting to fix the inequity. One good deed at a time :) the fact that we crap in 1.6 gallons of clean water baffles me...there are other options. start using them! If the security code is wrong, please, talk to me fix it, Thanx, I love water.org!!! Great cause Matt! I'm glad I could be a part of it! Thank you for helping and teaching us and inspiring us to help. Thanks to Taylor "Bun" B do we donate this money for Matt Damon's beautiful, delicate insides. Also the children. I'm on strike too, and am very entertained. Yet, I am very pleased to support Matt's efforts on this issue. Thank you Matt for using your fame & fortune to make a difference in the world. <3 I hope this helps to make the world a better place Thanks for a fun approach to a serious topic! Because everyone deserves clean, safe drinking water. GEEZE. I already have to tinkle. I should have waited 2 more minutes before joining the strike. Kitty Litter BMX supports your effort and wishes you luck in reaching your goals. Great idea, I hope you reach your goal and much more. Wish more celebrities would be like Matt and help those in need Drinking a glass of clean, cold water has a little more meaning now. Thank you for the initiative. Very clever & entertaining campaign. Great effort. Thanks on behalf of humanity:) big smile The Ryba Family from Northville MI are striking with Matt Damon!! The world needs more people like Matt Damon. I'm starting today by donating the profits from a cottage business to this cause. Clowater's Plumbing & Heating
Clowater's Plumbing & Heating helps people everyday with their toilets & r happy to help water.org provide everyone with access to toilets! Together, we can all make the world an amazing place! Clean water is essential and we take it for granted! Great cause. Awesome thing to be doing!! I,too, am giving up the toilet, but my body is rejecting my pledge. I ate beans today. Please actually give this money to people in need Great cause, and a fantastic way to make people aware of it, and how easy it is to make a big difference! Love you Matt Damon!!! I'm thankful all of my children can use the restroom in doors, bathe properly, drink, and the many other things we use water for. I couldn't imagine living without clean water. I hope someday soon, no one will have to. Keep up the fantastic work! shit in a bucket for all i care love the fact that you speak via your own mind and use that thing most of the world is lacking- common sense i support the strike and always try to spread the word with people around me! Okay, I was amused and the point was taken. You can have some of my money, but I'm probably going to keep going to the bathroom. Great idea Matt Damon! Thank you for using your talent and celebrity status for good! Go WATER and SANITATION Programms! Thanks Matt! Keep up the good work :) Water is a human right, not a privilege and we're incredibly privileged here, even the poorest of us. Peace and love from Canada. I haven't pooped in 7 days! Thank you for all your love :) Thank you for the opportunity to help others in a way that is life changing. Sure puts things in perspective. Great viral campaign! Keep fighting the good fight. Giving a person water for life. We couldn't have found a better, easier way to make such a profound difference if we tried (and we did). Thank you everyone who donated! Keep up the good work! God Bless! What a fabulous cause! Im going to do everything I can to get others to join! I hope my 1st of many donations help make a difference! Thank you for putting this together and helping at the community level. We're stronger together. I actually don't understand your strike, but it's for a good cause and it's crazy enough to get attention, so I donate. Thank you EpicLLOYD for bringing this charity to my attention! Wish it could be so much more.. I'm sorry I couldn't do more! God bless water.org. i hope this puts smiles on every family that needs water. :) I hope this is truly helping someone :D. College Kid just wanting to do something positive haha. Thank you for raising awareness! :) Good luck with your mission! Water needs to be accessible to everyone. Best of luck guys, I hope you aren't like the other charity organisations! Clean water is an imperative. How can we not help? "Until justice rolls down like water and righteousness like a mighty stream." There are more people in the world with cell phones than with clean water, there is no excuse for #strikewithme not to be heard! I'm a cynic who usually doesn't believe in these type things. Please, prove me wrong and make a difference. For all those less fortunate. Toilets. Yup. I once had to go three weeks with out using one while with the USMC.... I could not imagine my whole life. Matt Damon is very inspiring, and utilizing his gifts to better the world. Thank you! Excellent fundraiser! Thank you! Your voice is much louder than the many, many cries for help in the world. Thanks for answering. Hilarious and informative videos coming from Matt. Well done, proud to donate :) Thanks for this opportunity! The nervous system of the world is coming online thanks to people like you! Serious problem, serious solution. Presented in a kind of funny way, but you got all my attention! May Peace Be Always Upon You. If I can spend $50 on a video game, I can sure as heck spend $50 on clean water for life for two people. We take water for granted. I want everyone to be able to that for granted. Thank you for letting me donate. Yvonne & Juliette Christian Ok, enough, you got it, go to the bathroom now!! ;-) this is great what you're doing. still can't believe that not everyone has water. seems crazy in this day and age we live in. This may be one of our last LOST natural resources. Out goes the water then everything else follows.... What a great way to raise awareness. $25 dollars to give someone clean water for life! Done :) To help all those people who don't have what we take for granted every day. To give them a chance at living life. God bless them. May all beings find peace, gratitude, and joy in living! You speak with clarity and conviction about this and its truly inspiring. Thanks Matt! What a great idea!! Thanks, Matt!! Matt Damon and those responsible for Water.org are heroes! Join the Strike! Matt Damon is a hero. Every one of us Americans who watch his movies and who drink fresh water like it's a right, should support this cause. This strike is the best. Thanks water.org! Thanks Matt! I am donating because not only is this a good cause but the video was very funny. Clean water is a human right, and I'm happy that someone like Matt Damon is bringing awareness. Let's keep this going beyond the strike! Thanks for your concern & action. Water, can't get any more basic and life enhancing. May God bless this effort. We love you, Matt! You are the best A great cause. Wish I could give more. great cause. hope this helps. i really hope this helps make the world a better place We all can make a difference! I'm proud of you Matt Damon for taking an interest in solving this problem. May God guide your use of these funds wisely and responsibly. Strike Water and sanitation for all Awesome way to raise awareness, that video was so great on so many levels. Here's to helping someone have clean water for life! I'd love to help people as much as I can. I could join you to help people because of you doing this! Thank you!!

support all the way from Sultanate of Oman Deidre and Joseph McClellan
What a great idea. Thank you for helping these people. Without question, you have done a great thing. What an awesome cause! EVERYONE deserves clean, safe water! what a great organization Go ahead and pee/poop Matt Damon, your goal is met. In honor of my brother Bucky who's in Guatemala right now drilling wells for villages needing clean water. "Where'd all the good people go?" - Jack Johnson I think they all went to water.org and donated to a great cause. Thanks for what you are bringing to the public. Every living being on this planet deserves clean water! Thanks for raising awareness about this issue and providing an opportunity to make a difference Many a little makes a mickle. 塵も積もれば山となる。 Not much but hope this helps someone out there. Our company promotes saving water products and we are delighted to be of help. He was bourne to do this! I am so glad I get to relieve myself now. Well played.... Great cause. I'll see how long I can strike. Good Luck and good health to all! Gimme some water Cause I shot a man On the Mexican border Cool, cool water Gimme some water I need a little water Way to go Matt and crew! We should all drink from the earth's fountain and care for our brothers and sisters around the world. Ann Thanks, Matt, you are my hero... This donation is in memory of my brother. He would have loved the creativity and humor behind this campaign for such a worthy cause. Awesome cause. YOU KEEP HOLDING IT, MATT! IMHO, Funny Video , from a guy and his accomplises who genuinely care. You are great and we hope for a global change. I think once we lose that want to help others is when we have forsaken ourselves. Here's to not losing that Great idea. Keep up the good work Good luck reaching your goal! Clean water for this dirt world. It's not much but I hope it can really help, change and improve someones life. Shaycarl brought me here by the way

I'm alarmed at the statistics, that $25 can give someone water for life. I'm down with that! Thank you Matt Damon for using your fame to inspire people to make the world a better place. Love the videos! Life. Its worth living for. Thanks for doing such great work! You never miss your water til your well run dry. im thankful that theres a celebrity using his status to support a cause. ITS THE NEW AGE BRO! love all, i love who ever is reading this. <3 I have access to clean water and a toilet and I'm no one special, why can't everyone have what I have. Keep up the good work! I can't imagine a more worthwhile cause. Matt...you crack me up...in a good way. More power to you. Also, loved the Jimmy Kimmel Show. Always in for a strike with a great cause:) Hope our donation helps. I'm flushed with the excitement of being a part of this movement.... Well executed donation organization. thanks a lot for doing this. sounds like a great cause Thanks for helping make human rights a priority. Thank you Matt. Water is the first thing we cannot live without. I care. My husband is from a village in Nepal, where not a drop of water is wasted. I applaud this effort and hope it raises awareness. Thank you Matt for inspiring news conference . thank you for your inspiring work. Great cause. Thank you for starting this fund. It's not much, but I support the cause. Love from our family on Valentine's Day! What a great way to help others! Keep up the good work water.org!! Thank you for doing this!!!!!!!! We're so glad we could help! This is amazing! Great work! Keep up the good work. Clean, accessible water is the single most important issue for women in developing countries. Thank you guys for doing this and i hope i can help to improve the life of someone else :) Keep up the good work, Matt. I can't believe it only takes $25 to give someone clean water for LIFE! Thanks so much Matt for bringing this to our attention. Much love! Donation made by my 14 year old daughter, Jess Please help others achieve one of the basic needs in life. I've seen conditions up close. Disbelief in this day and age. Donate. Strike. Hey guys, this is a great message that you're getting out there. I hope this donation helps! I love Matts heart & compassion for others! Very creative way to let us know about your cause! I'm giving in honor of my family for Valentine's Day. Good luck! It's not much, but I hope it helps those who need it in some way. It's a good thing you're doing Matt Damon is a great representative for a very worthy cause...but I am going to go to the bathroom still. :-) Still going to use the bathroom- it's super convenient. Grateful that someone has finally devoted themselves to this cause! Good luck and great work! We Praise God for More & More of people being Obediant to what He has Commanded!! Thank you Mr. Matt Damon & Water.org :) so very much. Great job - as an infectious disease epidemiologist, thank you for putting a handsome face to this problem. Bill Gates is leading an initiative to redesign the toilet - you guys would be a world force on this issue! Give someone clean water for life... kinda cool. MATT DAMON YOU ARE MY HERO!!!! I care deeply about this and I am glad that you do too. Please keep doing what you are doing. Way to go! (pun intended) Thank you, Mat, for giving me the priviledge of helping others. I have been traveling all my life and I understand. We need to walk the walk not just talk the talk. I am very happy to help! very proud of you for this wonderful cause Please do not add me to postal or email distribution lists or provide my information to others. Thanks. We take fresh, safe, clean water for granted in the US. Everyone on earth deserves the same. Thanks for all you do Matt My wife asked me to donate as her Valentine's day gift. If mama ain't happy... Best of luck with your strike. I believe in the relief of people with lesser having, I'm giving to less fortunate! Thanks for caring 'bout others! Please support this project! My mouth has been agape for over ten minutes after hearing the stunning facts in the strike video. I believe Water.org will make a difference! Thank you for taking up the fight, Matt. We support you and your efforts! I'm glad I could help someone out! I was very sick a few summers ago, and it was even difficult to drink water. It was there, right in front of me, but I couldn't have it. Email me a list of other causes you'd like $10 to go to, I don't know where the greatest need is. Thank you for this. And also for the Sarah Silverman video. Every human being deserves access to clean water. Keep up the good work, Matt! Thank you for shedding light on this enormous issue! Good luck Matt... Matt: I love how you use your fame for great causes. Keep caring, and keep up the great work. I know you will. Jonathan De Young Sounds reasonable to me. How can you not give $25 to help people in need. Especially if it means clean water for life! Supporting Jason Bourne aka Matt Damon supporting the world. I created a film about it in in Africa www.tahithehumanjourney.com Thanks Matt for your dedication. Karina xoxo Thanks for helping us help others. Hopefully what little amount I can give will help out those in need. To think that so many do not have clean drinking water is unfathomable. soOoo... you can buy 5 cups of coffee OR provide someone with clean water for life -- are you really still thinking this through? G I V E!! Nice pub. Had no idea before today. Thanks for the opportunity to help! Congrats Matt for the project and for taking action. I'm glad to be a part of it. Matt!!! Kidney stones are PAINFUL.... Please drink lots o' water and secrete it discreetly. Love, TR $25 gives a person clean drinking water for a lifetime. Tremendous. I'm crossing my legs with you, Matt! Such a basic thing we take for granted, it's not much but hope this helps! Glad to help Mr. D!! Keep up the good work. great work for such a basic need that we all take for granted "Water is life's matter and matrix, mother and medium. There is now life without water." - Albert Szent-Gyorgyi Thanks for running this program! Keep up the good work guys! Matt & team you are creative, positive and funny in how you fundraise. Good causes cause the need for a good strike! Count me in. ;) Matt, please, just do not have Marty Caan consulting for you again.... Nice Job Guys. Keep up the good work. I <3 Matt Damon and Water.org! Keep up the good work - we're right behind you! Happy to support! Thanks, Matt. Make my wish come true...yes clean water for all & Jason Bourne to return! Keep up excellent work of yours on and off the screen, Matt! I can't resist supporting this cause! Besides, Matt Damon looks like my son, too! H20 for life! Our top responsibility for each of us is to change ourselves for the better in hopes that others will follow. Matt... it's nice to see someone that "gives a crap" about the people of the earth....keep kicking ass..