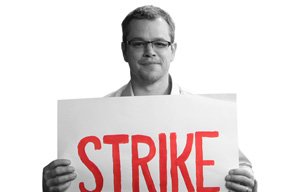 Water .org
$79,778.01 raised
Water says:
Matt Damon, co-founder of Water.org, is taking a stand for the water crisis and is going on strike.
The problem is enormous but we can make a difference. One in eight people don't have safe water meaning each morning they scavenge to survive. Lack of safe water and sanitation impacts a family's health, keeps children from getting an education, and traps millions in a cycle of poverty.
For only $25 Water.org can get someone safe water for life. Water.org has been helping people get sustainable solutions for over twenty years. We can make a difference in the world and together we can help change someone's life.
Check out the strike at StrikeWithMe.org.
UPDATE: As some of you have noticed, we have exceeded the initial goal set for this campaign. We assure that you what we raise over the goal will still be used for bringing water and sanitation to those in need. Thank you for your support.
Donors Saw you on Wheezy Waiter, keep up the damn good work! If more donation sites were like this I would probably donate more. This is all I could donate! I hope its good enough! :) I wanted to strike, but giving money just seemed more helpful. And easier. Lunch for two or water for life? Duh. May God bless your effort I'm so happy to be able to help. Thank you for creating a way for me to help people from so far away! thank you for all you are doing matt. i really appreciate what you are doing for the people around the world. keep up the good work . Good luck and I hope we reach as many people in need as possible! Good work! I hope we get updates on how this awesome organization is doing. Thank you for your hard work! Sorry. after 3 yrs in Peace Corps a toilet is a well earned luxury How about I donate some $ instead? Keep up the great awareness! This is such a worthy cause. I wish I could more. Blessed Be. I saw the water filters being distributed by the Armed Forces Veteran... a great invention to help filter dirty water in areas of need. thank you for the opportunity Glad to be part of a great cause to change and improve the quality of lives. Thanks Matt...a great idea Just bought my way back into the bathroom. Alicia Sky & Ashlyn Kunerth I gave up coffee for lent. This is where my coffee money is going :-) "Reporters are dicks" lol Here's to a lifetime of clean water and sanitation. In honor of all those who cannot poop If it's just caca, I'm totally in. Great cause and very happy to support it! Thank you for helping to solve a problem. Water is life. I can't afford to give much, but every little bit makes a difference. Thank you for starting this organization. We all need clean water but I agree with Stan go to the toilet or your kidneys will hurt like heck :) very straightforward, very clear goal, makes absolute sense! makes it a no-brainer on deciding whether to donate. thank you! $5 is the lowest amount one can donate on this site BUT if we all gave just $5 together we would make a HUGE difference! My hope is with the efforts made by Water.org, we can one day live in a world where simply being thirsty is not a life or death decision. Everyone deserves access to clean water! Let's do this. It's really just that simple just give up $25 worth of your coffee purchases for a few days... good work matt, get sxephil on this he has a shit tone of subs that would love to help out Everyone deserves access to clean drinking water and adequate sanitation, I'm just doing my social duty. matt and all the supporter thank you so very much I am very proud of u keep going, I got ur back!!! "Human nature is like water. It takes the shape of its container." ― Wallace Stevens

this is my last 50 dollars till April. looks like i'll be eating ramon noodles till then. its completely worth it. good luck Matt.