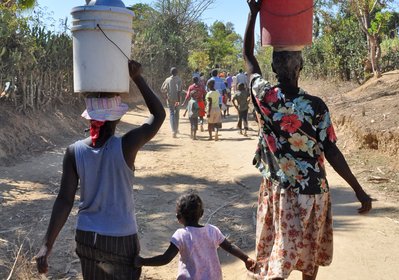 Kate Twomey
$1,067.00 raised
Kate says:
At any given time, half of the world's hospital beds are occupied by patients suffering from diseases associated with lack of access to safe drinking water, inadequate sanitation, or poor hygiene. More people die each year from unsafe water than from wars. Lack of safe water and sanitation impacts a family's health, keeps children from getting an education, and traps millions in a cycle of poverty.
For only $25 Water.org can get someone safe water for life. Co-founded by Matt Damon, Water.org has been helping people get sustainable solutions for over twenty years. We can make a difference in the world, we can help change someone's life.
Donors Best wishes to you, and have a wonderful summer! Katherine - you are one of the few who have chosen to be part of the solution instead of part of the problem! Keep your compassion! (: Lets Quench The Worlds Thirst - Together... :o) Kate, Thanks for seeing a need and filling it. Keep up the good work. What a great endeavour you've taken on. Good job. I think this is one of the most important types of help, clean water is paramount for health. great job young lady keep up the good work From Samantha's grandmother Proceeds from Katherine's bake sale...great job Katherine, Samantha and Erica! Auntie M & Uncle N Boone & Sullivan Dear Katherine, I'm happy to support such a worthwhile project. I hope you meet your goal. Love, Aunt Jean Good for you Katherine! Making us proud every day! Hi Sweetie! This is a worthwhile cause; thanks!