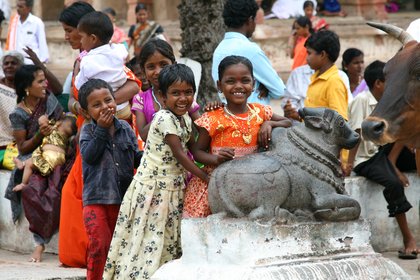 Josh Schrei
$11,051.25 raised
Josh says:
On October 5th - 7th, 2012, I will complete a 8.5 mile pilgrimage around South India's sacred Arunachala mountain -- doing sun salutations the entire way -- in order to raise funds and provide clean water for impoverished people in India. This pilgrimage will require close to 30 hours of effort, more than 3,000 sun salutes.
In this way, I hope to engage the yoga community and to offer something back to the country whose traditions have given me so much.
This campaign is part of a larger effort of mine to raise $108,000 in funds over the next two years for water.org
I invite you join me on this journey of transformation.
Here's how:
1) Donate to the cause
2) If you are a yoga teacher or studio owner, host your own 'Sun Salutes for Clean Water' drive, leading back to this page
3) Share this page with all your friends and contacts
4) create your own campaign at give.water.org and link back to this one!
follow my progress @ facebook.com/crucibleyoga
Donors Annette Cantor-Groenfeldt Great work you can do with so many others helping this worthy cause. Thanks. :-) Blessings to all helpers and donors. This is a matching gift, initiated by Christie Mazuera Davis.

On behalf of The Studio Reno, here is our donations from the remainder of October. Namaste Thank you Josh for inviting us to join in on this journey! Deepest Bows! This donation is from Hot Yoga Downtown Albuquerque! Keep up the good work Josh!! CLEAN WATER IS HEALTHY LIFE Ram Ram Ram Ram Ram Ram Ram

$$ raised Donation Vinyasa class - Reno on 10.12.12 Thank you for giving us the opportunity to serve those less fortunate. Namaste Josh - I admire your amazing efforts and this is a truly worthwhile cause. Amitabha, Joan. You are an inspiration Josh. Wish you the very best for your endeavor. May the universe give u undying strength & visions. Thank u for touching us in such a special way Honestly don't know if 3000 ss is a good idea... have struggled to support. But 500+ people already have water for life-- too good. GL. xx Theo and Malou Fischbach-Zenner Keep up the good work/ yoga! light, peace and love to you on your journey :) In celebration of Frances Prema Harjeet and Thad Haas. Wishing you both a lifetime of happiness, love and service. thanks Josh, for doing this. thanks Josh, for doing this. Rachelle LefevreRachelleL Good luck meeting your goal! It's a small amount, but given with a big support from the heart. Good luck Josh for all the causes you act for. Wonderful effort, Josh - all the best to you. Deborah Amazing project, Josh. Thank you for your vision, determination, devotion and hard work! The Sullivan Boys Sullivan
We will be doing sun salutations with you in solidarity. Thank you for what you are doing to raise awareness and consciousness. big love blessings with every sip of water, every breath of life. Katey, Tamer and Hudson Hassan
Josh- amazing work! All our best! Many thanks for all you have given to Laura and Elena. I am so happy to learn about water.org. And more than pleased to support in this way. Bless you beyond words. Glad I could help you out a little. Thank you for creating this opportunity for me to help create positive change in the world. May all beings be released from suffering. Choke Gray told me about this wonderful project - I hope you reach your goal! Love and water to you :) I imagine you'll need plenty of both. Happy to donate to such a great cause. Babaji!!! am sorry that I cannot contribute more than $25 as I am on a student budget. Jai Shiv Shankar bholenath Ki JAI!! Harsh Varma Clean water for everyone! Thanks for doing this! Much love! Energy and strength to you dear friend, to complete your task and return home healthy and happy : ) With hands palm to palm, Josh. Namaste Josh! I will have my employer match this with $100 more. Thank you for your good and great work. Thanks for continuing to bring important issues more into awareness. I'm sorry I'll miss the benefit. Enjoy the evening. I drink stream water and everything I do. I become a waterwheel, turning, tasting, long as water moves. -Rumi Best to you as you reach higher and make life better for others with clean water. Namaste, Sarrah Namaste! It's a wonderful thing that you are doing. I'm sending out a link to my yoga students at Omkarra Yoga. I love what you're doing, Josh. Blessings! Your love lifts me up higher! only Love, can bring the rain that makes you yearn to the sky. only Love, can bring the rain that falls like tears from on high. Best wishes, Josh! Breath! what a beautiful cause, Josh. wishing you the best on your journey. love, andi This sounds AMAZING, Josh. Can't wait to hear all about it!! Best wishes and warm hugs to you. -Megan Good luck on your challenge! This donation is from Laura and Elena Sippel, who don't have credit cards. Happy Birthday, Josh! That which is highest in me - honors & acknowledges that which is highest in you. Feliz Cumpleanos! Thank you for this very special opportunity to give. Happy Birthday Josh! Loving hugs, Mark & Celina. Happy Birthday Josh!! What a great gift to ask for!!!! Best gift that I've invested in. :-) Josh, We love you brother. Thanks for focusing your energies towards those how need help. Solar and Renata WE LOVE YOU! Happy birthday! We'll be linked with you bro! Thank you for your inspiring work. Love, sa and tai I'd love to do this with you someday, brother. Be well, exercise focus, practice gratitude. Good cause dude. Happy Birthday! -peace- Great work Josh, best wishes for a succesful trip. Drop me a line if you're in NYC ! Been a while since Leh ;) Thanks for bringing awareness to this issue Theo and Malou Fischbach_Zenner what a fantastic journey you are on...and such beautiful, important work! namaste. :) Namaste Josh! You are an inspiration. Haribol! With Love and Gratitude, Frances and Thaddeus Thanks for reaching out and doing this. Thanks for keeping us mindful, Josh. All the best to you on your pilgrimage-- may we all continue to work toward health and human rights! Happy to be a part in this great cause May all beings be nourished~ May all beings be quenched~