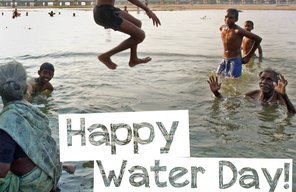 Water .org
$6,518.00 raised
Water says:
World Water Day is March 22. As you can imagine, it is our favorite time of year. But we don't limit the celebration to just one day.
$25 brings one person clean water for life. Donate to help us create a buzz around water for the entire month of March. Share with people you love. Doing good is contagious.
World Water Day was founded in 1993 by the United Nations. While different organizations use it to highlight the impact of water on one day, we use the entire week to lift up our mission: sustainable safe water access for the 780 million people currently without it. Our goal is to make this a reality in our lifetime. So let's celebrate water, the progress that's been made, and that progress we are continuing to make.
Donors This donation is to honor all Jen Morse does to improve the environment for us all. Blessed be to all. I am so happy for this. :) I'm so happy to donate and know this money is going in the right hands to provide fresh drinking water across the globe. I drink clean water everyday, so here is some for you. Keeping you In Our Prayer's!!!! Cathie and Ray Everyone should have access to a safe water source I am soo happy to participate at this program or organization I hope everyone has a secure water source. I couldn't imagine living without clean water. This is a small donation to help as many as it can! Prayers! Happy Water Day!!! God's grace is coming your way!!!! Contribution to assist God Bless!! Thanks for all your dedicated work to clean water around the world! The more clean water the more we all grow!!!!!!!!!!!!! May our donations be a blessing to those who receive them! I am blessed with 3 wells on my family farm and so I am pleased to give someone water for life!!! Love. Love is the most important thing in the world. God is always there for us A small give back after all the years I've swam in clean water. thank you so much for helping!! I am truly blessed to have clean water everyday. It is so important that something simple like water be available to all. I have 4 people in my family; each wanting to help another human being have safe water like we do. (: In honor of my Grandmother. Miss you Nannie. Reduce the amount you drive for one week or month and use the money you save to give someone clean water for life! Here to help in any way possible, if y'all ever do mission trips i would love to come! Clean drinking water is everyone's right! Unfortunately, it's something most people take for granted. We often take our water for granted and forget that many people do not have access to this basic need. Helping in a way that I can.

Happy Water Day. Someday we will be able to bring fresh clean water to all the depressed areas on this ball we call earth. Thank you everyone at Water.org for making today, March 22, a very special day!!! Thanks for helping our planet's precious water keep flowing pure and free. Glad to help a tiny bit. In honor of my humanitarian mother, Marie P. Make a change. Happy water day!! :) If everyone gives something, the somethings become a big thing. Our most precious resource. Wat er you doing to help keep it clean? The only precious liquid is clean drinking water. Everyone, everywhere deserves it. Through this donation, my husband, our kids and I want to help save lives. Continue the good work! I want to help the children who need clean water. Happy Water Day! Make a donation. Make a difference in someone's life! $10 isn't much but God can do some amazing things with the little we give Him!! For all to share our most precious resource;this is the goal. Anything short of this is a failure of humanity and a tragedy at best. Happy Water Day! Maybe just a drop in the bucket but many drops fill the bucket! know body deserves to be left behind, we all need to share what mother nature provides. I enjoy clean water everyday and I want everyone to experience that. I hope my donation helps in some way. Happy Water Day! Happy Water Day! We take many things for granted, this is for children in need. Thank you for your work in spreading this important global message! Can't imagine my own kid dying from some preventable waterborne disease. May no one else need to either. THANKS FOR THE GOOD WORK, MATT. KEEP IT UP. $25 brings one person clean water for life. Water is essential to everyone. Thanks for helping those in need of clean water.