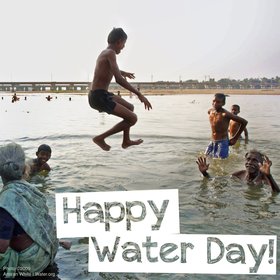 Water .org
$13,115.40 raised
Water says:
World Water Day is March 22. As you can imagine, it is our favorite time of year. But we don't limit the celebration to just one day.
$25 brings one person clean water for life. Donate to help us create a buzz around water for the entire month of March. Share with people you love. Doing good is contagious.
A little background: World Water Day was founded in 1993 by the United Nations. While different groups use it to highlight different impacts of water on this day, we use the entire week to lift up our mission: sustainable safe water access for the nearly a billion people currently without it. Our goal is to make this a reality in our lifetime. An so we use the entire week to celebrate water and all the progress that has been made, and they we are continuing to make.
Donors Wish we could give more...but I hope this will help what goes around, comes around. thanks Everyone should have fresh water. From a Mormon in Utah with love, caring, and compassion. $25 for a person to have water for life. That's a bargain I just can't pass up!!! God bless your work. (And I love the postcards of people and projects.) We can make a difference, one teaspoon at a time. I'm from Germany and I would like to thank water.org for their work. Everyone deserves clean water. I hope this quenches someone's thirst. :) 1 weeks worth of groceries for me . . . a life time of water for someone else. Absolutely no contest God, please bless one person with clean, safe, abundant water, and thank you for the water I will try not to take for granted ever again. This is ridiculous. Water is a natural resource --a birth given right..like air. God, please bless one person with clean, safe, abundant water, and thank you for the water I will try not to take for granted ever again. Everyone deserves to have access to water... even though its not much... I want to help someone have water for the rest of their lives. I only have enough money in my account to support myself for the week, but I'll donate $5. So much gratitude for all your good work. Blessings to all. Thank you for doing what you do. It pains me that I have only money to give, but take it and use it well. Part of the DeFranco nation. Happy to help. God's blessings on your work. water is life! wish I could do more... May God bless your ministry - water for life :) Water is the most important liquid on the face of the earth. The only liquid that all living things need. I'm saving up for a car and some people don't even have water they can drink. What's with that? Thanks for helping a teeny tiny donation make a difference for someone out there in the wide world. Three cheers for water.org! Thank you to the people making a differance by donating, sharing the cause, and doing hands on work in these communities. Having pure water come out of a tap at my will is one of the greatest gifts given me in my lifetime. everyone deserves clean water Thank you for giving clean water to those in need!!! Let's make this dream a reality. Everyone deserves access to clean water. In memory of my brother Al. Keep up the life-changing work giving the gift of water to people in need. thank you water.org, for bringing clean water to those in need. Thank you Matt for doing such good in the world! For the world that should be. Thanks for raising the awareness. In honor of Erin Swanson! From the Georgia States Urban Environments spring semester class :) Thank you to Water.org for helping to bring clean water to the world! Thanks Water.org! Peace & clean water for all! With greatest respect ~ CEE. Clean water should be available to everyone. let there be water for all! Safe drinking water is a basic human need. Hope my contribution gets someone that need. I will spread the word! Everyone deserves clean water! Water.org is my hero! Thank you for bring this situation to light. I would have never known what I take for granted. What a great organization! good luck! Thanks for focusing attention on this issue! Happy 85th birthday, Mom. This small gift honors the blessing of you in our lives and in all the lives you've touched over the years. For Lent, I will try to be more aware of how and when I use the precious gift of water. Great work water.org! Good Water Hunting. Thank you for all you do! Congratulations for your valuable work! I hope this can help someone to have such a vital thing like water. To all those deserving a basic human right. Disappointed that I must read and agree to a "Terms of Use" just to make a donation. I may not donate next time. Together for a better world! Clean water for all!! This is donated for my grandchildren, Jack and Aidan Pinnix giving water to the world's children. I hope that this donation gives someone access to clean drinking water or working toilets. big fan of matt damon.... saw his name & signed up! You made a difference.. star power worked! The children are our future! Each small contribution adds up to a big difference in the lives of others. Be grateful for the blessings in your life and pay them forward. Thank you for the opportunity to help. I will only pass this way once, so whatever good I can do; let me do it now. In Jesus Name, Amen Wow! $25 to give someone clean water for life!! I can't resist! I encourage all my friends who are able to donate & change a life.PEACE!! Think if you didn't have clean drinking water!!! the things we take for granted Everyone should have access to clean water In loving memory of Sgt Gerard W - RODDY - Burke, Jr. WE ARE THE WORLD - DO NOT GIVEUP - HOPE COMEMING TOMMORROW. We are all one in this world and it is time for us to realize this! We take our water for granted. Thanks for keeping us educated Keep up the good work, please do not use this donation for administration or overhead costs. Water is essential to all life. Keep up the good work! Great work you guys and may god bless you with love, joy, peace and happiness every moment of your lives. take care For the gift of water, in spite of our drought. We should all be able to have access to decent drinking water. I hope to do this on a regular basis. Life is important wherever it is! Blessings. As long as space remains, may our loving kindness flow, so one more child can drink enough clean water, & so :) our true nature- we are one. may water flow its blessing to every One as quickly as we can all manage bless the water and all that use it Wish I could donate more but I'm happy I can help atleast one person! Working to provide clean water to the planet, one well at a time. Water is essential. So simple. So beautiful. Those of us who have plenty need to give it to those who don't. I hope this helps in some small way bring clean water to those in need. Clean water is a basic right for all who inhabit this planet. I love what you do and hope to help out while I'm in Asia over the next year! A little can go far for someone in need---hope more people can realize and give to this cause. It's so sad how the majority take water for granted. Join the cause - and DONATE - please. Thinking of all those who don't have access to clean water... Every person deserves clean water! Enjoy! Great project. This seems to be an issue that the majority of people are blind to. Thank you for spreading the message. Everyone deserves clean water! the fact that more people have a mobile phone then the ones having access to clean water shocks me...this must be changed! This needs more media coverage than Kony. 4K child deaths a day is unacceptable. This is THE MOST under represented issue effecting more people than even Kony does. Thanks for working for the purpose of clean water. EVERYONE should have access to water, it is the giver of life. HAPPY WATER DAY!!!! I had an assignment to write a song about water and used the information provided on water.org to do so. thank you for all your great work