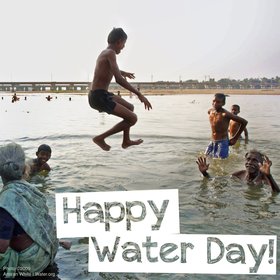 Water .org
$13,115.40 raised
Water says:
World Water Day is March 22. As you can imagine, it is our favorite time of year. But we don't limit the celebration to just one day.
$25 brings one person clean water for life. Donate to help us create a buzz around water for the entire month of March. Share with people you love. Doing good is contagious.
A little background: World Water Day was founded in 1993 by the United Nations. While different groups use it to highlight different impacts of water on this day, we use the entire week to lift up our mission: sustainable safe water access for the nearly a billion people currently without it. Our goal is to make this a reality in our lifetime. An so we use the entire week to celebrate water and all the progress that has been made, and they we are continuing to make.
Donors Wish we could give more...but I hope this will help what goes around, comes around. thanks Everyone should have fresh water. From a Mormon in Utah with love, caring, and compassion. $25 for a person to have water for life. That's a bargain I just can't pass up!!! God bless your work. (And I love the postcards of people and projects.) We can make a difference, one teaspoon at a time. I'm from Germany and I would like to thank water.org for their work. Everyone deserves clean water. I hope this quenches someone's thirst. :) 1 weeks worth of groceries for me . . . a life time of water for someone else. Absolutely no contest God, please bless one person with clean, safe, abundant water, and thank you for the water I will try not to take for granted ever again. This is ridiculous. Water is a natural resource --a birth given right..like air. God, please bless one person with clean, safe, abundant water, and thank you for the water I will try not to take for granted ever again. Everyone deserves to have access to water... even though its not much... I want to help someone have water for the rest of their lives. I only have enough money in my account to support myself for the week, but I'll donate $5. So much gratitude for all your good work. Blessings to all. Thank you for doing what you do. It pains me that I have only money to give, but take it and use it well. Part of the DeFranco nation. Happy to help. God's blessings on your work. water is life! wish I could do more... May God bless your ministry - water for life :) Water is the most important liquid on the face of the earth. The only liquid that all living things need. I'm saving up for a car and some people don't even have water they can drink. What's with that? Thanks for helping a teeny tiny donation make a difference for someone out there in the wide world. Three cheers for water.org! Thank you to the people making a differance by donating, sharing the cause, and doing hands on work in these communities. Having pure water come out of a tap at my will is one of the greatest gifts given me in my lifetime. everyone deserves clean water Thank you for giving clean water to those in need!!! Let's make this dream a reality. Everyone deserves access to clean water. In memory of my brother Al. Keep up the life-changing work giving the gift of water to people in need. thank you water.org, for bringing clean water to those in need. Thank you Matt for doing such good in the world! For the world that should be. Thanks for raising the awareness. In honor of Erin Swanson! From the Georgia States Urban Environments spring semester class :)