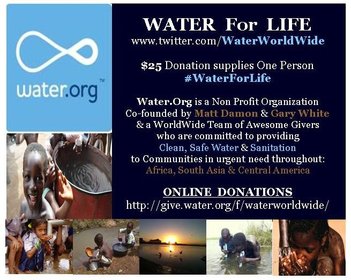 Lisa WaterWorldWide
$475.00 raised
Lisa says:
WELCOME to our @WaterWorldWide Fundraising Page.
We have joined together with Friends, Family & other Beautiful people alike, in order to assist contributing to our favorite Non Profit world Water Organization ~ WATER.ORG. Your Donation helps provide Clean Drinking Water & Sanitation to those in Urgent need within communities throughout Africa, South Asia & Central America. Matt Damon & the Water.Org Team share more insight via this link here ~ http://youtu.be/KdwinEmUqF0 (you may need to copy & paste link in order to view video)
WaterWorldWide's target is to raise $9999 by January 2014 as this amount will provide 400 people in need, #WaterForLife. How Awesome it that?
Your donation REALLY Makes a Difference.
Every time $25 is raised Water.org will then supply 1 person in urgent need with: Clean, Safe Drinking #WaterForLife. :)
We warmly appreciate if you would kindly share our link wherever you are able to ~ or if you prefer you can Collect Donations on behalf of us then upload them here.
Our Direct Link: http://t.co/rYdkJKD3LD
We Appreciate You & Your Support Warmest THANK YOU ever
Big Buddy Bear Hug The @WaterWorldWide Team Proudly on behalf of @Water XOX
Donors So proud and very excited to see the growth of such a positive and vital organisation!! Looking forward to watching the ripple grow :) Knew you would do it! Well done, awesome job. So proud of you Lisa, as you continue to inspire us all. Lots love, xo Very challenging, well done Lisa! Right by your side Lisa, Way to Go! ~ @Water is an Awesome Organization ~ Great job Lisa! You continue to inspire... what a huge challenge and amazing cause. Keep the momentum going and enjoy the journey!! :D Good on your Lisa. Great cause. Good luck with your personal quest too :) x Cheers!! Lisa waterworld wide!!!! Have fun juicing Lisa & I'll say congratulations now because I know you can do it :) Wendy